Best M4V to MOV Converter to Remove DRM from iTunes Movies
Why Convert M4V to MOV
There are many cases that you need to convert M4V to MOV. Though both developed by Apple, MOV format presents a lot of advantages that are quite usable to everyday use while iTunes purchased or rental M4V files are protected by FairPlay DRM copy protection which causes many limitations. Besides, MOV works better and has more widespread support than M4V for streaming video. But the most typical case is for QuickTime as MOV was originally developed by Apple as a file format for its QuickTime movie player.
Best M4V to MOV Converter
M4V to MOV Converter offers "Same as Source for MOV" output format with H.264 video and AAC audio Codec by default for Users. H.264 is a new video codec standard which can achieve high quality video in relatively low bit rates. AAC achieves higher audio quality than MP3 files and maintains similar or lower file sizes because it can support capture up to 96kHz and can support up to 48 channels and backwards prediction.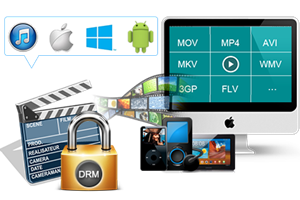 Convert video by starting and ending time
Extract audio file from video separately
Convert HD Movies with great quality
Convert Purchased & Rental Movies
Convert Multi-language Video Files
Importing iTunes Videos Quickly
Keep Chapters of Original Video
Batch Convert Video Files
Remove DRM Protection
Locate log file directly
M4V to MOV Converter is a combination of DRM removal tool and M4V Conversion program. It can easily remove DRM from iTunes movies and convert them to whatever popular formats you wish like MOV, MP4, AVI, FLV, MPEG, 3GP at high speed and with excellent quality. What's more, with only a few clicks you will be able to make them playable on different portable devices, such as Apple iPhone 5S, iPad Air, iPad mini 2, Sony PSP, Samsung Galaxy Series, Blackberry smart phones, HTC Phones, Google Nexus, Amazon Kindle, Nokia Lumia, etc.
QuickTime & MOV
QuickTime is an extensible multimedia framework developed by Apple Inc., capable of handling various formats of digital video, picture, sound, panoramic images, and interactivity. QuickTime is available for Apple and IBM compatible users running a compatible operating system such as Microsoft Windows or any Macintosh operating system. With IBM compatible computers, QuickTime is commonly used to play .MOV extension files.
The MOV file type is primarily associated with QuickTime. It is a QuickTime media container format. Files that are saved in .MOV format are compressed, making it easier to download and stream video from the Internet to your computer or portable media device. Many of the movies and videos that are available online are distributed in .MOV format.