How to Convert M4V to MP4 by Using M4V to MP4 Converter
M4V file format is a video file format developed by Apple and is very close to the MP4 format. The differences are the optional Apple's Fairplay DRM copy protection, and the treatment of AC3 (Dolby Digital) audio which is not standardized for the MP4 container. With DRM (Digital Rights Management) protection, users could just only play their iTunes M4V TV episodes, movies, and music videos in portable Apple devices.
With M4V to MP4 Converter, you can convert M4V to MP4 format that can be freely played on various non-Apple devices, such as Android tablets/phones, Windows RT tablets, HD media players and etc. AVS4Mac M4V to MP4 Converter is an excellent and easy to use M4V conversion program. It can convert iTunes M4V video files including your purchases or rentals to various formats with perfect output quality and high conversion speed.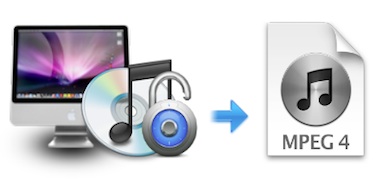 Why Choose AVS4Mac M4V Converter Plus to Convert M4V to MP4
AVS4Mac M4V Converter Plus is the best M4V to MP4 Converter that provides two kinds of MP4 output formats for users-Same as Source for MP4 & Customized MP4 Video. Though both of the two formats produce .MP4 output files, they still have some differences.
Generally, the best output format is H.264 video with AAC audio in MP4 format. Because H.264 currently offers the best video compression available. And the profile "Same as Source for MP4" has chosen H.264 video and AAC audio by default. So uses can produce output videos with high quality. But as the parameters are the default, meanwhile users can't adjust the settings. While the profile "Customized MP4 Video" offers user DIY experience to set the parameters such as Video Size, Video Codec, Video Bit rate, etc. But sometimes most users don't know the best settings. So the qualities of output videos may be not that perfect.
Consequently, if users need high-qualified output and know less about the best parameter settings, the profile "Same as Source for MP4" is preferred. On the contrary, if users need high-customized output and know much about parameter settings, the profile "Customized MP4 Video" is another good choice.
Both Mac and Windows version are available for AVS4Mac M4V Converter Plus. You can download it according to your OS.
M4V VS MP4
M4V
M4V is a file extension for a container file defined in the systems part of the MPEG-4 standard. M4V video file format is developed by Apple Inc., who uses it to flag as a video file and attach it to iTunes, by encoding TV episodes, movies, and music videos in the iTunes Store under official DRM copy protection.
MP4
MP4 is the official filename extension for MPEG-4 Part 14. It's most commonly used to store digital video and digital audio streams, especially those defined by MPEG, but can also be used to store other data such as subtitles and still images. Indeed, MP4 has become an immediate huge hit. It has set the bar and became the foremost standard for internet broadcast and streaming.
Summary
• MP4 is developed to make multimedia applications on the internet faster and of better quality while M4V is specifically developed for Apple products such as Apple iPod, iPad, iPhone, and iTunes.
• MP4 and M4V are similar to each other in many aspects. However, the copyright of M4V files may be protected by using Apple's FairPlay DRM copyright protection.
• Originally, M4V was only played on a computer via iTunes while MP4 is much more universally supported and can be played with a variety of players.
• MP4 came to the scene first while M4V was later popularized with the development of Apple products.
Note: The trial version of AVS4Mac only allows one minute conversion, you can purchase AVS4Mac M4V Converter Plus to get the full version now at only $44.95 while the original price is $49.95.