Reviews: Kindle Fire HDX 8.9 VS Kindle Fire HDX 7
Since announced on 2011, Amazon Kindle Fire is one of the hottest tablets in the market. The company has just officially refreshed its product line and introduced the new Kindle Fire HDX tablets- Kindle Fire HDX 8.9 and Kindle Fire HDX 7. Kindle Fire HDX tablets have a high resolution display and high pixel density for an incredible multimedia experience. The display features over 2 million pixels for vivid, lifelike images that go beyond standard HD.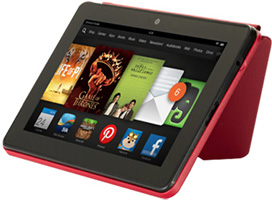 2.2GHz, quad-core Snapdragon 800 processor
Android 4.2 fork, Fire OS 3.0(Mojito)
Adreno 330 GPU, 2GB of RAM
24/7 one-way video support
On-screen "Mayday" button
Dolby Digital Plus audio
If you are a video lover, you can't miss Kindle Fire HDX tablets. But if you rent or purchase the biggest new releases and most popular titles from iTunes, you'll find that you can't play those videos on Kindle Fire HDX due to DRM protection. Fortunately, with AVS4Mac iTunes to Kindle Fire HDX Converter, you can easily remove iTunes DRM and convert M4V purchases or rentals to Kindle Fire HDX supported formats.
With AVS4Mac iTunes to Kindle Fire HDX Converter, you are now free to watch iTunes videos on Kindle Fire HDX tablets. But you may still scramble to buy 7-inch version or 8.9-inch version. Most of the specs are the same across both sizes. Thanks to a top-notch 2.2GHz Snapdragon 800 processor, both have three times the performance. They also double the memory, up to 2GB, and the Adreno 330 GPU gives them four times the graphics power.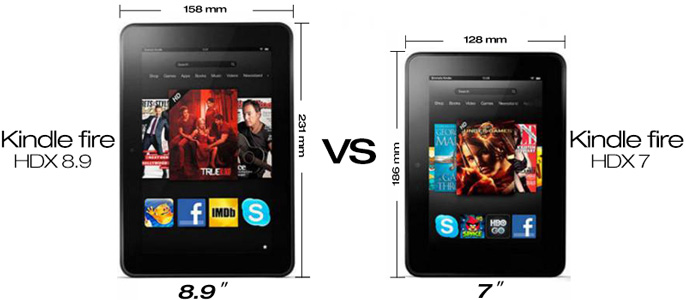 But there are still many differences between the two sizes. Stop hesitating! There is no better way to see how something has evolved from a spec standpoint then by laying them out side-by-side.
Kindle Fire HDX 8.9 VS Kindle Fire HDX 7
Screen Resolution & PPI

Compare to 221 and 254 ppi for their predecessors, Kindle Fire HDX sports much higher resolutions, with pixel densities rated at 323 ppi (1,920 x 1,200) and 339 ppi (2,560 x 1,600).
The HDX display features dynamic image contrast, a unique feature that automatically optimizes the color of each pixel based on the amount of light in your surroundings.
Camera Resolution

Both the 7" and 8.9" Kindle Fire HDX tablets have a front-facing 720p HD camera, perfect for Skype HD video calls and taking photos to share via Facebook or e-mail.
But the 8.9-inch model also has a rear-facing 8-megapixel camera that can capture 1080p video, so it scores a point here.
Weight

What the pictures didn't tell us, however, was just how light the Fire HDX tablets are. Amazon describes it as "startlingly so".
The 7-inch model weighs 10.7 ounces (down from 13.9 ounces) and the 8.9-inch model weighs 13.2 ounces (down from 19.2 ounces).
Price

The 7-inch HDX model starts at $229 and will start shipping October 18th, while the 8.9-inch model starts at $379 and will start shipping November 7th.
Add $100 to either, and you'll get 4G LTE through either AT&T or, for the first time, Verizon.
Battery Life

Amazon claims the HDX will get about 12 hours of active battery life for surfing the Web, watching videos or listening to music.
If used solely for reading, the HDX automatically powers down unused system components, extending battery life to 18 hours.
Which one is better: Kindle Fire HDX 8.9 or Kindle Fire HDX 7?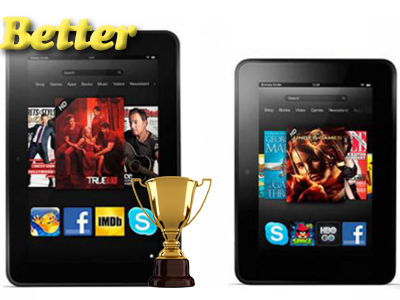 Kindle Fire HDX 8.9
Higher resolution screen, longer battery life;
Sharper & bigger screen, 8-megapixel rear-facing camera.
Kindle Fire HDX 7
Lighter and smaller, less expensive;
Inconspicuously designed; start shipping early.
Both versions are available now for pre-order. If Amazon can deliver on all its promises with its core apps, from email to the updated Silk browser, and can make the HDX into both the best vessel for Amazon content and something more besides, these two tablets are going to be hard to beat.
Note: The trial version of AVS4Mac iTunes to Kindle Fire HDX Converter only allows one minute conversion. You can purchase the full version with only $44.95 while the original price is $49.95.
Extra Recommendation:
TuneCable Spotify Converter is a well-designed Spotify music downloader which is able to convert Spotify songs, albums and playlists to MP3, AAC, WAV or FLAC format at 10X faster speed with lossless output audio quality.