To Buy or to Rent iTunes Movies? That is the Question.
In 2008 Apple introduced movie rentals to its iTunes Store, iPod, and Apple TV ecosystem which is no doubt a big step forward for both the industry and for consumers. Now Apple's iTunes Store offers video files for sale and rent. The store's page for each program or film has details on what options are available for buying or renting, along with the prices: $2.99-$5.99 for rental price and $9.99-$19.99 for purchase price.
When you click the Buy button next to a movie or TV show, the file is yours to download and keep. This content can still be transferred onto multiple Apple devices, including up to five authorized computers running iTunes, five authorized Apple TV devices, any number of iPhones, and any number of current or even previous models of iPod. Further, purchased content obviously does not expire, and once downloaded will remain in your iTunes library indefinitely—even if that content has been removed from the iTunes Store itself.
Rentals on the other hand, are much more restricted, since they are transitory by their very nature. Rental videos have a window of time in which you can watch. With rented movies, for example, you have 30 days to start watching and 24 hours to finish once you start. After that the film disappears from your hard drive. Besides, rentals have other restrictions as well.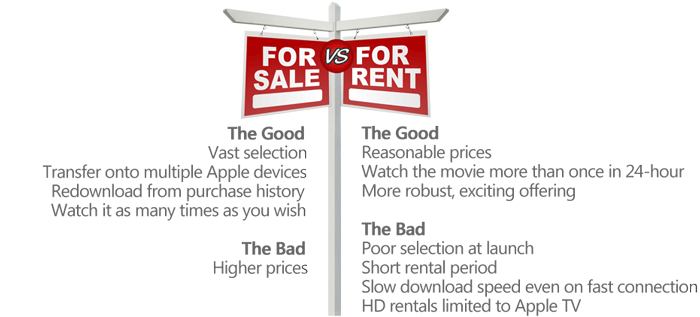 To buy or to rent iTunes movies? That is the question. There both pros and cons for buying or renting iTunes movies. If you want to keep the iTunes movie and watch it as many times as you wish, it's sensible to purchase it. If you just want to watch the movie at a reasonable price, it's better to rent the movie.
But whether you buy or rental iTunes movies, you are only allowed to play them on Apple devices due to DRM protection. If you are happening to be Android or Window phone users, is there any way to transfer iTunes purchases or rentals to Android/Windows devices? And for iTunes rentals, is there any way to keep rentals forever?
AVS4Mac M4V Converter Plus is the best DRM Remover and iTunes video conversion software for both Mac and Windows users to convert protected iTunes M4V movies. This powerful DRM Removal Software helps you to remove DRM and convert both purchased and rental M4V movies from iTunes Store to unprotected video formats including MP4, AVI, MPG, MPEG-1, MPEG-2, 3GP, 3G2, FLV and SWF.
The M4V Converter Plus has also built in various output profiles for iPad, iPhone, iPod, Apple TV, PSP, Samsung Galaxy Note, Samsung Galaxy S, HTC, Amazon Kindle Fire HDX, Nokia Lumia, Google Nexus, Xperia and BlackBerry. You can get rid of Apple devices and watch them on any devices as you like.
What's more, if you have rented some M4V movies, you can convert them before the expiration day comes. With AVS4Mac M4V Converter Plus, you can simply add rental movies to your own movie library for conversion. After removing DRM, can keep the rental movies forever without caring for the expiration. Follow the below steps to remove DRM from purchased or rented iTunes movies.
Click "Add" button to add iTunes purchases or rentals;
Click "Profile Setting/Output format" button and choose "Same as Source MP4/MOV" to keep original quality;
Click "Convert" button to remove the DRM protection and keep iTunes rentals.
Copy and transfer the DRM-free MP4/MOV videos to Android/Windows devices.
Extra Recommendation:
If you have iTunes protected M4P music and Apple Music tracks, you can use TuneCable Apple Music Converter convert them to MP3, AAC, FLAC or WAV format without losing original audio quality.